In Melbourne, Australia, 3CR is a community radio station that broadcasts on the AM band as well as on the digital spectrum as 3CR Digital. It primarily broadcasts talk shows with political (particularly trade union) and environmental themes, as well as some music and community language programs. Today, the station airs more than 130 programs, which are presented by over 400 volunteers.
3CR is a vibrant community hub that has been producing radio since 1976. We currently have over 400 volunteers, two full-time employees, and four part-time employees. 3CR broadcasts groups are concerned with social justice, the environment, ethnic communities, the arts and music, and labor unions. Annually, 3CR hosts a number of special broadcasts to promote human rights issues such as Aboriginal rights, women's rights, and worker's rights.
General Info –
City: Melbourne, Victoria
Broadcast area: Melbourne RA1
Frequency: AM: 855 kHz; DAB+: 9B Melbourne
Slogan: Community Radio
Language(s): English
Format: Community access
Owner: Community Radio Federation Limited
First air date: 3 July 1976.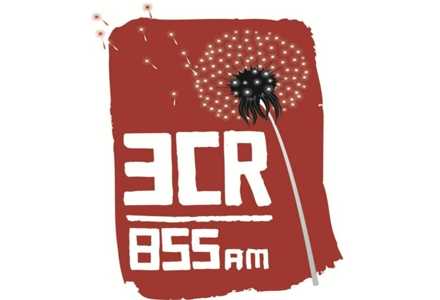 History
The station's broadcasting licence was approved on 10 October 1975, by the Minister for the Media, Dr. Moss Cass. Test broadcasting began on 1 May 1976, and full operation began on 3 July 1976 from studios in High Street, Armadale. The station was Melbourne's first such community radio station to obtain a license.
In 1974, The Community Radio Federation (CRF) is formed at a public meeting at the Pram Factory in Carlton, Melbourne on June 23. 1975 The CRF is awarded a broadcast license on October 10. 1976 3CR begins test broadcasts on May 1 and begins full-scale operations in Armadale on July 3, broadcasting at 840 AM. 1977 3CR moves to premises at 20 Cromwell Street, Collingwood. 1978 The Bulletin labels 3CR "The voice of terrorism" because of 3CR's support for the Palestinian struggle. 1979 Subscribers enjoy the first CRAM Guide.
3CR begins 24-hour broadcasting in 1981 and the license is renewed.  1984 3CR moves to its current home at 21 Smith St, Fitzroy, and covers the Roxby Downs blockade despite 3CR's news team being barred from entry.
1990 Live coverage of Nelson Mandela's speech to trade unionists at the Melbourne Town Hall, and the 20th anniversary of the Westgate Bridge Disaster is marked with a documentary and special programming by the Concrete Gang presented on 3CR by the CFMEU Building Union division.
1991 Extensive coverage of the Coode Island Chemical Storage Depot disaster, and offers an alternative view of the Gulf War with three reports daily.
In 2016, the station published a book that is now available for sale. 'Radical radio: Celebrating 40 years of 3CR' documents the station's rich history and political and social activism.
Programs
Every week, 3CR broadcasters present approximately 125 radio programs, including 20 community language shows in 13 different languages and 10 hours of Indigenous programming, and listeners can tune in on 855AM, stream live via the web, or download podcasts of their shows.
The radio station was founded in 1976 to give a voice to those who were denied access to the mass media, particularly the working class, women, Indigenous people, and the many community groups and community issues that were discriminated against in and by the media.
Annually, 3CR hosts a number of special broadcasts to promote human rights issues such as Aboriginal rights, women's rights, and worker's rights. Each week, over 400 volunteer programmers present more than 120 programs. The station broadcasts 24 hours a day, 365 days a year in approximately 15 languages, including English.
Main Programs –
Democracy Now!
Alternative Radio
Anarchist World This Week
Beyond Zero Emissions
Accent of Women
Brainwaves
Chin Radio Kong
Alternative News
At a Glance
3CR is a Melbourne, Victoria-based community radio station. It was founded in the mid-1970s with the intention of serving the working class, women, and indigenous people. This is Melbourne's dissenting voice.
3CR is financially self-sufficient, relying on membership dues and donations for funding. We do not advertise and do not rely on commercial sponsorship for our programs. The government accepts one-time grants for specific projects or programs, as well as grant money from the Community Broadcasting Foundation. The station welcomes paid announcements from community groups, local governments, and government, as well as program sponsors.
Contact Info –
Liveonlineradio.net has 3CR 855 AM in its listings. Just click and enjoy.
3CR 855 AM – liveonlineradio.net/3cr