1079 Life FM is an Adelaide, South Australia-based Christian radio station. Great positive music, information about family-friendly events in Adelaide, and an unwavering message of hope found in Jesus can all be found here. This radio station broadcasts on the frequency 107.9 MHz.
Life FM seeks to challenge and influence contemporary thinking by broadcasting a biblical worldview that leads people to a revelation of God's grace and encourages them to connect with the local Christian Church as Christ's followers.
General Information
Broadcast area: Adelaide, South Australia
Frequency: 107.9 MHz FM Radio
Slogan: Your Music
Format: Hot AC/Christian radio
Owner: Christian Radio Incorporated
First air date: 1993
History
According to the radio station's website, it took 20 years to obtain a "broadcast license for Adelaide's only Christian radio station." 1079 Life has been on the air full-time since October 1993.
1079 Life was originally known as "Alta Mira FM," but was later renamed "Life FM." Life FM rebranded and changed its name to "1079 Life" in September 2016, dropping the FM in the title to reflect the emergence of digital radio, not just the FM band.
The station has been an incubator for local media talent in Adelaide, most notably Brenton Ragless, who began with 1079 Life and then moved to the Nine Network where he now reads the news.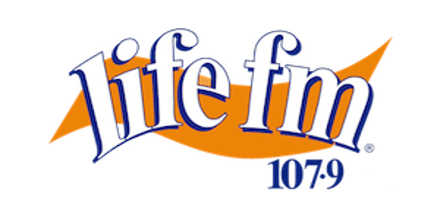 Format
Adelaide's Good Taste Radio is the station's motto. In addition to Adult Contemporary and Christian music, 1079 Life broadcasts news, sports, music, and talk shows.
In the winter, 1079 Life usually broadcasts a SANFL football match on Saturday and Sunday afternoons. The station has received three SANFL Media Awards, including "Best Commentary" in 2004 and 2008, as well as "Best Radio Interview" in 2007. From 6 p.m. on weeknights, 1079 Life will also simulcast Nine News.
Programming
As of 2019, the featured on-air line-up consists of:
Adelaide's Good Taste Breakfast, hosted by Rebecca "Bec" Seabrooke and Liam Page from 6:00 am – 9:00 am weekdays
Luke & Susie, hosted by Luke Holt and Susie Holt from 10:00 am – 1:00 pm weekdays
Aiden in the Arvo hosted by Aiden Grant from 3:00 pm – 6:00 pm weekdays
The Takeover hosted by Mary-Anne "Maz" Maio from 7:00 pm – 9:00 pm weekdays
You will never hear rude lyrics or innuendo in any of the songs played on Life FM, the station's announcers are all friendly, and you will never hear any 'questionable' language, crude jokes, or negativity, at any time of day or night. In addition to Adult Contemporary and Christian music, 1079 Life broadcasts news, sports, music, and talk shows.
Contact Info –
Twitter: @LifeFM1079
Contact: PO Box 1079, West Lakes, SA 5021 08 8444 5444
Website: https://1079life.com/
Email: [email protected]
The station's motto is Real Life Radio.
Choose Life; 107.9 Life FM, Adelaide's family station. Life FM has a committed team of staff and volunteers who share these values and are committed to making a positive difference in Adelaide. If you'd like to learn more about Life FM or provide feedback, we'd love to hear from you!
Liveonlineradio.net has 1079 Life FM in its listings. Just click and enjoy.
1079 Life FM – liveonlineradio.net/107-9-life-fm