2Day FM Radio is a popular online radio station based in Sydney, New South Wales, Australia. This radio station is part of the Southern Cross Austereo network and is well-known for broadcasting top 40 and pop music around the clock. It operates on 104.1 MHz and is part of Southern Cross Austereo's Hit Network. Southern Cross Austereo (SCA) is a leading media company in Australia, reaching more than 95 percent of the population through radio, television, and digital assets.
Southern Cross Austereo provides entertainment media solutions through a diverse array of Australian multimedia companies. SCA owns 99 FM, AM, and DAB+ radio stations under the Triple M and Hit network brands. SCA represents 34 regional radio stations on a national level. SCA broadcasts 93 free-to-air television signals across regional Australia, reaching 2.7 million people per week, with Ten Network programming and advertising representation in regional QLD, southern NSW, and regional Victoria, Seven Network in Tasmania, Seven and Ten in Darwin, Remote Central and Eastern Australia, and Seven, Nine, and Ten in Broken Hill and Spencer Gulf.
General information
City: Sydney, New South Wales
Frequency: 104.1 MHz FM
Language: English
Format: Hot adult contemporary
Affiliations: Hit Network
Owner: Southern Cross Austereo (Today FM Sydney Pty Ltd)
Sister stations: Triple M
First air date: 2 August 1980
Genres: Top 40 & Pop Music
Networks: Southern Cross Austereo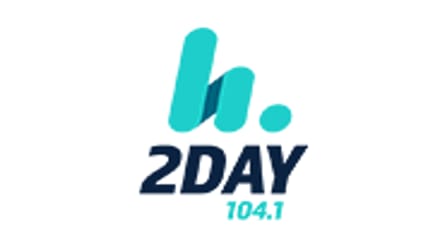 History
1980s – 2Day FM was one of three radio stations in Sydney (together with Triple M and Triple J) to be granted new FM broadcasting licenses in 1980, and began broadcasting on August 2, 1980. The studios were originally located on the second floor of the Sovereign Inn, 220 Pacific Highway, Crows Nest. In February 1987, the station was sold to the Lamb Family, who then sold it to radio firm Austereo in May 1989.
1990s – In 1995, the station's owner Austereo purchased the Triple M network from Hoyts, and following the merger of the two companies in 1996, 2Day FM relocated its studios and administration to Level 24, Tower 1, Westfield Bondi Junction at 520 Oxford Street, just one floor below Triple M's original home since 1980.
2000s – 2Day FM broadcasted from Bondi Junction until October 2005, when both 2Day FM and Triple M relocated to World Square, Goulburn Street, Sydney. The new location featured cutting-edge Klotz Digital equipment as well as a street-level studio. 2Day FM began 2005 with a number of changes, the most notable of which was the relocation of the drive show combination of Kyle Sandilands and Jackie O to breakfast and the hiring of a young and unknown Craig Lowe as the host of the nightly networked show Lowie's Hot30.
Rebranding
Southern Cross Austereo launched a rebranding of Today Network stations in capital cities in early 2015. This came after the successful redesign of Adelaide's low-performing radio station SAFM in September 2014.
Perth's 92.9 FM was simply rebranded Hit 92.9, while the remaining capitals were co-branded with the hit brand and frequency, such as "Hit 1019 the Fox" and "Hit 1041 2DAY FM." On September 1, 2015, both 2Day FM and Fox FM discontinued the use of the "hit" phrase in their on-air placement.
Transmission
The station broadcasts from the Hampden Road Artarmon Tower, which is shared by television stations 7, 9, and 10. Under the umbrella of Sydney FM Facilities, it shares an antenna with three other stations: Triple M, WS FM, and KIIS 106.5. The base broadcast power is 20 kilowatts, and the transmitter is a Harris ZD20 solid state transmitter.
It has an alternate transmission facility on the Broadcast Australia tower at Gore Hill, with a NEC FBN11K20E valve transmitter delivering 16 kilowatts of output power. Despite being nearly 20 years old, it is fed with all-digital input equipment.
Digital radio
In Sydney, 2Day FM is carried on digital radio. Choose The Hits, a station that only broadcasts on digital radio, debuted on 1 February 2010 and ceased on 26 May 2010. In addition to FM radio, listeners can tune in via the station's smartphone app.
Contact info:
Address: Contact: Level 15, 50 Goulburn Street Sydney, Australia NSW 2000 02 9375 1041
Social contact –
Liveonlineradio.net has 2Day FM Radio in its listings. Just click and enjoy.
2Day FM Radio: liveonlineradio.net/2day-fm