2MFM Radio is an Islamic radio station that is multicultural and multilingual. It normally broadcasts to the Sydney community while incorporating elements of the Quarterly report that focus on the Islamic community. It broadcasts 24 hours a day, 365 days a year, covering all Islamic events and sports in Arabic and English. It was the first broadcast 24 hours a day, seven days a week during the month of Ramadan in 1995. This radio station can be heard on 92.1 FM, digital radio, and online.
2MFM Radio now broadcasts 24 hours a day, 365 days a year, covering all Islamic events. It broadcasts to the Sydney community as a whole while also incorporating elements aimed specifically at Sydney's Islamic community. Because Arabic, Lebanese is the most commonly spoken ethnic language among Muslims in Sydney, radio programs are primarily broadcast in Arabic and English, with spots in other community languages evolving in response to demand.
Slogan: Muslim Community Radio
General information
Broadcast area: Sydney
Frequency: 92.1 MHz FM
Format: Islamic programming
Owner: Muslim Community Radio Inc.
First air date: 1995
Class: Community radio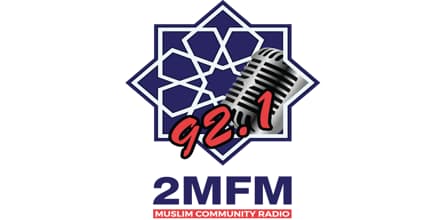 History
Muslim Community Radio (call letters 2MFM) is a community radio station based in Bankstown that broadcasts to Sydney on a citywide license. It is a volunteer-run organization that is primarily supported by listeners.
Darulfatwa – Islamic High Council of Australia is affiliated with the station. Beginning in 1995, the station broadcast under a temporary license during Ramadan and Dhu al-Hijjah, and then added a weekly Friday broadcast in 1997. On May 24, 2001, a full community broadcasting license was granted. The Australian National Imams Council requested that the radio station's license be revoked in 2011 due to its ties to Al-Ahbash and its promotion of "sectarian fringe views." The Australian Communications and Media Authority, on the other hand, granted a 5-year license in 2011, drawing criticism from Islamic groups.
Programming
Muslim Community Radio primarily broadcasts in Arabic and English. It also provides a multicultural and multilingual service, broadcasting in Indonesian, Turkish, Urdu, and the dialect of Iraq. The station broadcasts religious teaching and festivals, as well as educational and cultural programming.
Main Programs –
Arabic News – Local and International
Traffic Report – Currency Report – Classifieds
Arabic News Morning Talkback Show
MIX
Urdu
Voice of Fatwa
English Lesson
Here broadcast religious programs, which provide –
Coverage of all Muslim religious festivities and celebrations.
Coverage of the daily Muslim calendar, which is essential for prayers and fasting.
Positively influence the Muslim's attitude and conduct.
Entertain, guide, and involve the youth in community activities.
Implement social and educational programs –
To inform and encourage our communities to know and abide by Australian laws in general.
Provide the community with social information such as employment, housing etc.
Implement varieties of children's programs –
Prepared and done mainly by children to increase their general knowledge, culture understanding and build their confidence with positive orientation through entertainment and competition.
Produce appropriate songs for children to help them understand their culture.
Broadcast Medical and Health programs –
Increase the community awareness of medical issues such as diabetes, breast cancer etc., in conjunction with various health authorities.
Inform and make the community members aware of the medical facilities available to them , often unknown due to the language barrier.
Contact information:
Address: P.O. Box 204 Bankstow, NSW, Australia 1885
Liveonlineradio.net has  2MFM Radio in its listings. Just click and enjoy.
2MFM Radio: liveonlineradio.net/2mfm-radio