Warna 94.2 FM is an online based Malay radio station, broadcast from Singapore. It is one of the nation's oldest stations, having begun in service out of Singapore with the sovereignty of Malaya on 31 August 1957 as former name RTS Radio 2. The station plays a unique combination of international Malay music from the 1950s and beyond, and provides General Islamic Service for Singapore.
Warna 94.2 FM Radio Slogan: "Serentak Semasa"
General Info:
Broadcast area: Mediacorp Campus 1 Stars Avenue Singapore 138507
Frequency: 94.2 FM
First air date: 1959 as Radio Singapore; 1994 as Radio Corporation of Singapore
Format and Genres: Adult Contemporary Music
Language(s): Malay
Former frequencies: 675 kHz
Owner: Mediacorp
Sister stations: 938 LIVE
To get more information visit Warna 94.2 FM official website- radio.toggle.sg/en/radio/warna-942-fm.
This radio station is operated by Mediacorp. It is at present Singapore's #1 Malay Radio Station according to the latest Nielsen Radio Survey as of 1 December 2016. The station's DJs include Suharti Ali and Zakiah Halim, who has more than 30 years of experience in the radio industry.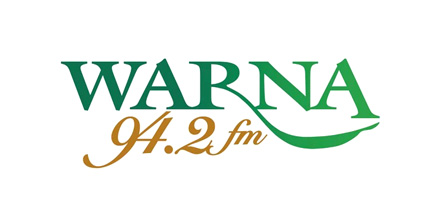 History
It was first aired operating out of Singapore with the independence of Malaya on 31 August 1957. The first air date was 1959 as Radio Singapore; 1994 as Radio Corporation of Singapore. Former frequencies 675 kHz. The branding stuck even as the network the station was in changed names several times until 23 November 1991 where the station gained its current name as Warna (Malay: "Colour").
Programs
You will hear great music from this popular radio station. This radio station provides Adult Contemporary Music, Malay Classic Rock, and Pop music. News, lifestyle magazine programs, and infotainment are also popular in this radio station.
Main Programs are-
Espresso Warna, Ceria Keluarga, Warna Petang, Sutera Warna, alam 2 Mat etc.
Daily Religious Programming and Azan Solat broadcasts
Warna 94.2 FM is popular for its general Islamic Service. The station is unique among all other Singapore-based stations as it provides content to the Malay/Muslim community in Singapore
Every 5:00 am, an automated programming service is used for 90 minutes of religious programming. For five times a day, the prayer call or azan is played on the station at the assigned time calculated and deliberated by the Islamic Religious Council of Singapore; the practice differs from Ria where it only announces prayer times.
Khutbah Broadcasts
On Fridays at around 6:30 pm, a recording of the Solat Jumaat service is broadcast to recap the sermon of the Imam during the period.
Special Programming
During the Maulid al-Nabi holiday, the station airs Nasheed music dedicated to the Prophet Muhammad. It also replaces regular music playlists throughout the day.
Full Time DJs are-
Suharti Ali, Mariam Mas'od, Shaik Abu Bakar Ahmad Banafe, Suriani Kassim, Hafeez Harun, Tahar Ghalib, Hafeez Glamour, Zaza Majid, Faridah Onn, Morniyati Tukimin and Abdul Razak Rahim.
Directorial and Management
Senior Vice President : Zakiah Halim
Assistant Vice President: Erina Cook
Senior Programme Director: Morniyati Tukimin
Asst Programme Manager: Zawiyah Majid
Contact Info-
Social Contact: Facebook, Twitter, Website.
Address: Caldecott Broadcast Centre; Andrew Rd S(299939)
Location: Caldecott Hill Estate, Singapore
Contact no- 6691 1942, Mediacorp Pte Ltd (Warna 94.2FM)
Email: [email protected]
Liveonlineradio.net has Warna 94.2 FM Radio in its listings. Just click and enjoy.
Warna 94.2 FM Radio– www.liveonlineradio.net/singapore/warna-94-2-fm.