3SER 97.7 FM is a community radio station serving Melbourne's southeast. CASEY RADIO is a non-commercial community radio station licensed by the Australian Broadcasting Authority to broadcast within the guidelines of the Community Broadcasting Association of Australia. It was founded in the 1980s and is owned and operated by South Eastern Radio Association Inc. It is the local community radio station serving Melbourne's south-eastern suburbs, which have a population of around 300,000 people.
Casey Radio 3SER is a non-profit organization dedicated to informing and entertaining the people of Melbourne's southeastern suburbs. It is a non-commercial community radio station serving Melbourne's greater south-eastern suburbs.
General Info:
City: Cranbourne East, Victoria
Broadcast area: City of Casey, City of Greater Dandenong
Frequency: 97.7 MHz
Branding: Casey Radio (from 2003)
Language(s): English, LOTE
Format: Community, Ethnic, Sport, Religion, Music, Youth and School
Owner: Market City Radio Inc.; South Eastern Radio Association Inc.
First air date: 1984 (as Market City Radio); 1987 (as 3SER)
Former frequencies: 88.3 MHz
Call sign meaning: 3South Eastern Radio
PROGRAMMING
Casey Radio's role as a community broadcaster is to provide general local community programming such as entertainment, news, and information, with the goal of "informing, entertaining, and involving" its listeners. The station's eclectic mix caters to the diverse needs of the communities, ranging from local council news to sport, country to comedy, retro to modern, rock to rockabilly, and a wide variety of ethnic and multilingual programs.
CASEY RADIO 97.7fm is perhaps best known for its diverse programming. This list includes a wide variety of music, including Pop, Modern, Latin, and Dixieland Jazz, Brass and Wind Band, Classical, as well as a wide variety of ethnic programming, including Hindi, Cantonese, Greek, Mauritian, Serbian language Serbian, Urdu, Samoan, Afghan, Buddhist, Dutch, and Cambodian.
SPORT
Casey Radio 97.7fm has been the home of the Victorian Football League and the Victorian Premier Cricket competitions since 1993, and it still is today. The station hosts a special Saturday morning radio program for the VFL in the winter and the Victorian Premier Cricket competition in the summer and then broadcasts live matches from both competitions on weekends.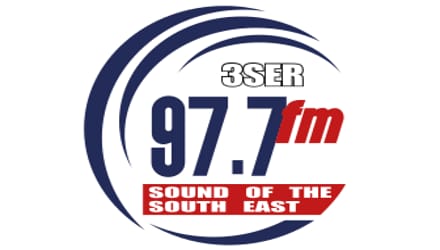 Broadcast Area
Their license encompasses 637.6 km2 and 410 514 residents (2017). This includes the majority of the cities of Casey and Greater Dandenong, as well as the eastern parts of the city of Frankston. The transmitter has a maximum power of 400 watts and is located at a former landfill off Quarry Road in Narre Warren North, Victoria.
History
Casey Radio began as Market City Radio in 1983, and the first test transmission was made on May 6, 1984, from JC Mills Reserve in Dandenong. Later, a transmission from the Dandenong Show was received. After a two-year hiatus, the station was resurrected by several early members, most notably life member Fred Harrison (originally from 3RPP), who assisted in the original license application.
3SER FM relocated to their current council-owned premises in Cranbourne East, known as the Casey Complex, in September 2002. The City of Casey retained ownership but agreed to provide financial support and grants in exchange for station presenters emphasizing the term "Casey Radio" during announcements beginning in 2003. On July 15, 2005, the signal began to be a webcast. Cranbourne station experienced turbulence in 2008-09, despite having secured a further four years of council funding and still attempting to establish "transparent management practices."
3SER began refreshing its identity and logo, utilizing the Casey Radio moniker, and funds were set aside to launch a new website. Due to perceived poor governance and a strained relationship with the council, the City of Casey quarantined a $75 000 funding allocation from the 2017-18 fiscal year. A progress report to the council is due in 6 months, after which the held funds may be released.
In 2014, 3SER was officially rebranded Casey Radio to reflect our mutual, ongoing relationship with our major sponsor, the City of Casey, and the broader community. Casey Radio has a proud history of broadcasting diversity, and several current presenters were on the air at the time of its inception
Social Contact:
Contact info:
Studio Complex: Suite 7, 65 Berwick-Cranbourne Rd, Cranbourne VIC 3977
Postal Address: PO Box 977 Cranbourne DC, Cranbourne, Vic 3977
Phone: +61 3 5996 6933
Studio Direct: +61 3 5996 6977
Business Hours: Monday – Friday, 9 am – 5 pm (AEST)
Liveonlineradio.net has 3SER 97.7 FM in its listings. Just click and enjoy.
3SER 97.7 FM – liveonlineradio.net/3ser-97-7-fm